Workplace Romance Box Set
Who doesn't love a workplace romance?
Here are three of Jade Winters best-selling lesbian romance novels in one read!
Love Interrupted
There are two sides to every story. And then there's the truth.
Divorce is rarely pretty and never fair. When successful divorce solicitors Harper Anderson and Dylan Blue find themselves on opposing sides of a bitter separation, they become uncontrollably consumed by more than just the case…
Dylan is fiercely ambitious, Harper a crusader for justice, so when the adversaries lock horns in professional combat, the tension is overwhelming. Harper hates Dylan's ruthlessness, Dylan is repulsed by Harper's 'bleeding heart liberalism'. As they both battle for their clients' interests, they find themselves at once repelled and strangely attracted to one another.
It is a case which will divide, infuriate and ultimately unite the two women, who find a deep love and understanding in the ashes of their clients' broken relationship.
Just One Destiny
Fresh out of university, Carissa Dunne is thrilled when she lands her first interior design job. Pretty soon the working relationship with her boss, Teal Adams, develops into an intense mutual attraction and the lines between employer and employee become blurred.
Disillusioned with love, Carissa convinces herself that she's okay with the arrangement Teal suggests, where both women can enjoy the benefits of being intimate without emotions getting in the way. But things get complicated when Carissa and Teal form a bond stronger than either of them intended.
As the completion of the renovation looms, will the women stick to the agreement and part on friendly terms? Or will it have to be re-written for another outcome altogether?
Falling
Can love find its way through life's most troubled moments?
When Amelia is given the chance of a lifetime to work at Styles, a successful fashion design house in London, she is immediately smitten with her boss, Vogue. Though there's an obvious attraction between the two women, Amelia questions whether it's real or all in her head. A fantasy that can never become a reality. After all, Vogue is rich, talented and beautiful, and can have any woman she wants.
Unknown to Amelia, Vogue is hiding behind a façade. Bereft after her best friend betrays her, Vogue is torn between the life she thought she knew and the reality she now faces, as the threat of losing her business looms over her.
Both women have to decide whether to put their hearts on the line and risk opening themselves up to the unknown. If they don't, they risk losing so much more.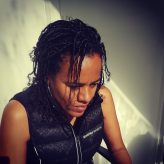 About the author
Jade Winters is a full-time author. She has published several novels in the lesbian fiction genre as well as a number of short stories.