Unravelled
Rae and Lindsay are best friends and both have their share of troubles. Rae has a broken marriage behind her, and has lost hope of ever finding happiness again. Meanwhile Lindsay is drowning in a sea of debt and as the relationship with her girlfriend is slowly fading, it seems like her life is on a downward spiral.
When Rae meets a charismatic stranger; Callum, it seems her life is about to get better. Desperate to have a child with her new beau, Rae asks Lindsay to be a surrogate for a generous fee. It seems the perfect solution: Two friends getting exactly what they want. Rae gets the child she desperately needs and Lindsay clears her debts to start over.
But this seemingly faultless arrangement is about to spectacularly unravel, as Callum plots a dark and twisted plan of his own …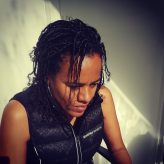 About the author
Jade Winters is a full-time author. She has published several novels in the lesbian fiction genre as well as a number of short stories.