Under Her Gaze
Will Laurie's big break finally force her to reopen the closet or will the skeletons inside make sure her secret stays hidden forever?
Humiliated and betrayed when a teenage fling with her best friend is brutally exposed, Laurie slams the closet door for what she hopes is forever.
But years later, after landing her breakout role, she realises that some skeletons just won't stay buried.
On set, smooth talking cinematographer Shona eyes her new leading lady as her next notch on the bedpost, but the longer Laurie stays in focus, the thinner the line between want and need becomes.
As the project reaches its climax, the pair are drawn together, but an unexpected old flame appears and soon it's hard to determine who is a moth and who is the light.
Book Details
Published by Wicked Winters Books 2021.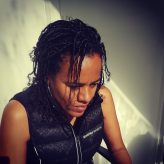 About the author
Jade Winters is a full-time author. She has published several novels in the lesbian fiction genre as well as a number of short stories.