The Song, The Heart
Would you sacrifice your own happiness to protect a secret or exact revenge?
Twenty-four year old Skye Anderson has always wanted to quit her boring job as a waitress to pursue her dreams of becoming a singer. But two things stand in her way . . . her irrational fear of failure and her father's downward spiral of self-destruction. Everything changes when she goes on a trip to London, gains the courage to sing at a karaoke bar, and meets a charismatic woman who makes her heart skip a beat.
Morgan Harrington is a successful night club owner with no time for romance. Yet after hearing Skye sing one night, she feels an instant connection to the secretive yet beautiful woman. But before Morgan can even think about a relationship, she must overcome her own inner-demons and make an important decision that might taint her life forever.
As these two women grow closer, their dark pasts and Skye's even darker secret only complicate matters. If they ever hope to build a life together, they'll have to find the strength to face the heartache, betrayal, and loss in their increasingly complex lives . . .
Is their relationship destined to end on a sour note? Or will Skye and Morgan have a chance at living their own love song?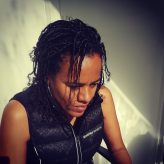 About the author
Jade Winters is a full-time author. She has published several novels in the lesbian fiction genre as well as a number of short stories.