Starting Over Again
In the aftermath of a tragedy, teenage lovers Luna and Evie's lives are changed in a way neither could have expected.
Eighteen years later, Luna reappears in the hope of starting afresh, but will putting the past behind them be that easy?
Book Details
Release date: 21st August 2017
Published by: Wicked Winters Books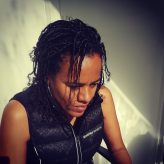 About the author
Jade Winters is a full-time author. She has published several novels in the lesbian fiction genre as well as a number of short stories.