Secrets
Righting herself as the train began to move, she looked up… into the verdant eyes of the most attractive woman, she had ever seen. "Oh my God!"
To the outside world, Lauren's marriage is picture perfect, but she is hiding a secret. Beneath the smile lies an unquenchable yearning: Lauren craves intimacy with a woman. Until now, these desires have been mere fantasy, harmless daydreams.
What Lauren could never have known was that a chance encounter on a train would change her life forever. She also had no reason to suspect that money missing from her family business would cause her to question her sexuality, or unravel her father's deepest, darkest secret…
Likewise, Gillian a former model, turned forensic accountant, had no way of knowing that her life was going to be turned upside down when she agreed to help Lauren's mother unearth the mystery behind the missing money.
While Lauren begins a journey of self-discovery that will have far-reaching consequences. Gillian must learn to lay the ghosts of her troubled and traumatic past to rest.
Will Lauren and Gillian get the happily-ever-after that they both desperately crave, or will their personal histories prove too difficult to overcome?
A secret can be exciting … it can also be a prison.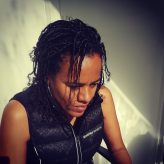 About the author
Jade Winters is a full-time author. She has published several novels in the lesbian fiction genre as well as a number of short stories.