Second Thoughts
Melissa thought she had it all. On the cusp of an exciting new journey with her partner Bettina, Melissa's once perfect life is thrown into a roller coaster ride when her ex, Sara, shows up unexpectedly.
All too soon, Melissa's emotions are pulled in different directions as she is faced with a life changing dilemma: should she choose the safe haven with Bettina or follow a long lost dream with Sara? With her wedding to Bettina looming, one thing is for certain, time is not on her side.
Book Reviews
The suspense was spellbinding and the intrigue intense.

Terry Baker, Affinity Ebook Press
Book Details
Release Date: 9th October 2014
Published by: Wicked Winters Books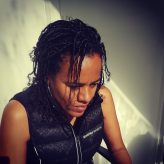 About the author
Jade Winters is a full-time author. She has published several novels in the lesbian fiction genre as well as a number of short stories.