Second Chance Lesbian Romance Collection
Sometimes love needs a second chance…
Three of Jade Winters' best-selling lesbian romance novels in one read! Over 500 pages to keep you hooked.
Accidentally Together
When Emma witnesses a burglary in the apartment opposite, she has every intention of doing the right thing: report it and move on. However, things don't go quite as planned…
Emma is stunned to discover the apartment belongs to Lauren, her first crush who she hasn't seen for fourteen years.
The return of her old amour reawakens a latent desire. Can Emma reignite the passions of her past, or will the reason Lauren left all those years ago tear them apart once again?
Say Something
First love is never easy, so when teen sweet-hearts Jessie and Toni's secret affair is dramatically exposed at school, their world falls apart. Bullied by her peers and betrayed by Toni, Jessie has no choice but to move on, vowing never to trust again.
Ten years on, in a strange twist of fate, the two women's worlds collide once more. This time, it is Jessie who holds the power. Now a prominent lawyer, she is called upon to assist the very person who betrayed her ten years ago. Can she put the past behind her to help a desperate Toni? Will she be able to deny the feelings for the only woman she has ever loved?
After all, no one ever forgets their first love…
Second Thoughts
It's hard to forget a passionate love. Melissa spent four years hoping the memories of Sara would fade. When she met Bettina, life had been transformed and happiness seemed assured now their wedding plans were underway. Pity Sara chose just this moment to show up and rekindle what Melissa had believed was ash.
Not only does Sara's unexpected return throw plans into confusion, but a dark family secret is dragged along behind it. Melissa is stunned to see herself reappraising her long term future with Bettina and the plans they'd carefully made.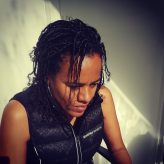 About the author
Jade Winters is a full-time author. She has published several novels in the lesbian fiction genre as well as a number of short stories.