Say Something
First love is never easy, so when teen sweet-hearts Jessie and Toni's secret affair is dramatically exposed at school, their world falls apart. Bullied by her peers and betrayed by Toni, Jessie has no choice but to move on, vowing never to trust again.
Ten years on, in a strange twist of fate, the two women's worlds collide once more. This time, it is Jessie who holds the power. Now a prominent lawyer, she is called upon to assist the very person who betrayed her ten years ago. Can she put the put the past behind her to help a desperate Toni? Will she be able to deny the feelings for the only woman she has ever loved?
After all, no one ever forgets their first love…
Book Reviews
Two strong female leads blend together in romance, friendship and possibly more, in this story that leads a windy, twisty path to a happy conclusion.

Planet London
Book Details
Release date: 11th March 2014
Published by: Wicked Winters Books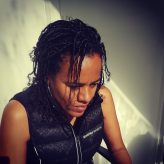 About the author
Jade Winters is a full-time author. She has published several novels in the lesbian fiction genre as well as a number of short stories.