Reclaiming Tomorrow
Can anything break a first love?
At eighteen, Hailey's life has been a whirlwind, filled with unexpected twists and marked by a deep yearning for love. But everything changes when she finds a new home with the 'perfect' family.
The Millers welcome Hailey with open arms, with Lindsay, the family's matriarch and renowned author, leading the way. Lindsay promises Hailey a stable home and the mutual benefits of friendship with her daughter, Sasha.
From the moment Hailey enters their lives, Sasha is inexplicably drawn to this mysterious stranger. Amidst the demands of university coursework and caring for her baby sister, Hailey becomes a welcome escape from Sasha's daily routine.
As their bond grows and they experience the highs of their first love, it seems nothing can tear them apart. That's until Hailey unearths unsettling secrets lurking beneath their idyllic home's surface. Lindsay's motives are not what they seem, leaving Hailey and Sasha fighting for their relationship.
Will they dare to follow their hearts when the world tells them it's impossible?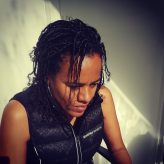 About the author
Jade Winters is a full-time author. She has published several novels in the lesbian fiction genre as well as a number of short stories.