No Other Love
Some memories are never forgotten…
Friends Sophie and Amber shared a strong bond at school until their attraction to one another caused a rift they were unable to overcome.
Ten years later, fate brings them together again but the pain of the past threatens to intervene once more.
Can Amber forgive Sophie for abandoning her? Or will her new life in New York be too important to give Sophie a second chance?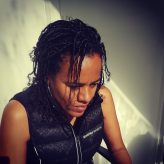 About the author
Jade Winters is a full-time author. She has published several novels in the lesbian fiction genre as well as a number of short stories.