Neighbour From Heaven
Some people borrow a cup of sugar, others a cordless hand-drill, but what young lesbian Lucy gets from her sexy neighbour is beyond the realms of probability…and decency!
Neighbour from heaven: A short sex snack from best-selling author Jade Winters & co-author, Alexis Bailey.
Lucy is new to the area. Adventurous and up for fun, she is just the girl to take 'loving thy neighbour' to a steamy new level. Enter the object of her desire – her deliciously attractive neighbour, Melody. Fit, friendly and oozing sex appeal, Melody is every girl's fantasy, but is she 'one of the girls?' or just a flirty tease?
This is a tale to get your heart racing and change the way you view that sexy neighbour down the hallway forever. Who knows, it may inspire you to borrow more than a cup of sugar yourself. After all, sharing is caring…
This is a 3500 word erotic short story.
Warning: Contains graphic language and f/f sex.
Book Details
Published by: Wicked Winters Books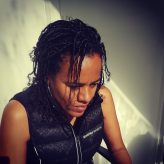 About the author
Jade Winters is a full-time author. She has published several novels in the lesbian fiction genre as well as a number of short stories.