Love Interrupted
There are two sides of every story. And then there's the truth.
Divorce is rarely pretty and never fair. When successful divorce solicitors Harper Anderson and Dylan Blue find themselves on opposing sides of a bitter separation, they become uncontrollably consumed by more than just the case…
Dylan is fiercely ambitious, Harper a crusader for justice, so when the adversaries lock horns in professional combat, the tension is overwhelming. Harper hates Dylan's ruthlessness, Dylan is repulsed by Harper's 'bleeding heart liberalism'. As they both battle for their clients' interests, they find themselves at once repelled and strangely attracted to one another.
It is a case which will divide, infuriate and ultimately unite the two women, who find a deep love and understanding in the ashes of their clients' broken relationship.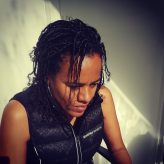 About the author
Jade Winters is a full-time author. She has published several novels in the lesbian fiction genre as well as a number of short stories.