Lost In You
The last thing Heidi Cross needs is to fall in love with the enemy ….
As manager of the Young Minds Centre, Heidi Cross has two months to fight the eviction notice the charity has received. But things aren't going to be easy, especially when she meets Vanessa O'Neil, the enigmatic and well-known lesbian, who is co-owner of the company responsible for evicting the charity.
While an intense chemistry sparks between the two women, Heidi knows that saving the centre must take priority over her attraction to Vanessa. But knowing and doing are two different things. As much as Heidi tries to keep her distance, something pulls her back to Vanessa.
As the battle to keep the centre open intensifies, a terrifying drama forces Heidi and Vanessa to decide what really matters most. But can Heidi even consider giving up her heart to a woman who is so out of her league?
The question is—does she have a choice?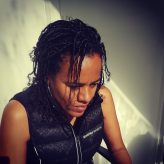 About the author
Jade Winters is a full-time author. She has published several novels in the lesbian fiction genre as well as a number of short stories.