Looking for Ms Right
Kemi knows what she wants in a partner but she's running out of options …
When her best friends suggest they start a dating blog, the hopeless romantic in her has no choice but to at least give it a try. As her quest for finding Ms Right gets underway, she is joined by her friends who have found themselves in the same situation. Even if they don't find love, they are determined to have fun along the way.
Looking for Ms Right is the first book in the Jade Winters lesbian romance series.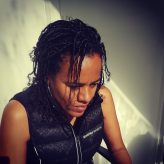 About the author
Jade Winters is a full-time author. She has published several novels in the lesbian fiction genre as well as a number of short stories.