Just One Destiny
Fresh out of university, Carissa Dunne is thrilled when she lands her first interior design job. Pretty soon the working relationship with her boss, Teal Adams, develops into an intense mutual attraction and the lines between employer and employee become blurred.
Disillusioned with love, Carissa convinces herself that she's okay with the arrangement Teal suggests, where both women can enjoy the benefits of being intimate without emotions getting in the way. But things get complicated when Carissa and Teal form a bond stronger than either of them intended.
As the completion of the renovation looms, will the women stick to the agreement and part on friendly terms? Or will it have to be re-written for another outcome altogether?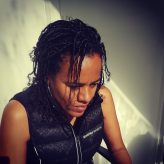 About the author
Jade Winters is a full-time author. She has published several novels in the lesbian fiction genre as well as a number of short stories.