In It Together
Cara has no one but herself to blame for the situation she finds herself in – she broke the cardinal rule: Don't read someone's personal diary. But what if she hadn't? How long would it have been before she found out that Maddie, her girlfriend of four years, was sleeping with her flatmate?
Now suddenly homeless, Cara flees to her family home in the heart of Cumbria to lick her wounds. There Cara reunites with the past she so desperately tried to outrun and comes face to face with the heart wrenching dilemma that caused her to leave in the first place.
With nowhere to hide Cara finally has to confront her demons head on. Does she tell the truth and risk tearing a brother and sister apart? Or does she carry on with the lie and be without the love she has denied herself for
so long?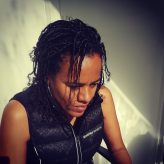 About the author
Jade Winters is a full-time author. She has published several novels in the lesbian fiction genre as well as a number of short stories.