From That Day…
Book Details
When teenager Analise spots her neighbour through the window, something inside her stirs. She can't help but drawn to Yasmin and she finds herself falling faster than expected. Despite their mutual attraction, Analise soon realises fate has something else in store for them. With nothing but Yasmin's parting words ringing in her ears, Analise is left wondering if their time was only a chapter or part of a much bigger story.
Love may have brought them together once before, but will it be enough to give them a second chance when their paths unexpectedly cross again ten years later?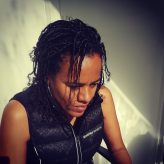 About the author
Jade Winters is a full-time author. She has published several novels in the lesbian fiction genre as well as a number of short stories.