Flirting With Danger
When the stepdaughter of a celebrated tennis player goes missing, ambitious journalist Astrid is determined to find answers. This is the high profile story she's been waiting for; the case that could bring her the recognition she so craves.
In her hunt for clues, Astrid's attention is piqued by an intriguing tweet from Callie—a family friend of the missing girl.
Convinced Callie might be a strong lead, Astrid follows her instincts and tracks Callie down. The encounter is one which will throw her whole being off balance.
As the pressure to find the missing girl intensifies, so does the attraction between the two women. With so much at stake, can Astrid hold her nerve and heart enough to deal with the shocking conclusion?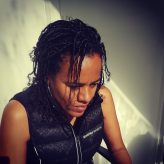 About the author
Jade Winters is a full-time author. She has published several novels in the lesbian fiction genre as well as a number of short stories.