Falling
Can love find its way through life's most troubled moments?
When Amelia is given the chance of a lifetime to work at Styles, a successful fashion design house in London, she is immediately smitten with her boss, Vogue. Though there's an obvious attraction between the two women, Amelia questions whether it's real or all in her head. A fantasy that can never become a reality. After all, Vogue is rich, talented and beautiful, and can have any woman she wants.
Unknown to Amelia, Vogue is hiding behind a façade. Bereft after her best friend betrays her, Vogue is torn between the life she thought she knew and the reality she now faces, as the threat of losing her business looms over her.
Both women have to decide whether to put their hearts on the line and risk opening themselves up to the unknown. If they don't, they risk losing so much more.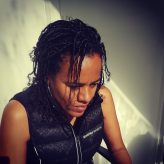 About the author
Jade Winters is a full-time author. She has published several novels in the lesbian fiction genre as well as a number of short stories.