Caught By Love
A love cut short too soon.
A friendship on the rocks.
A heartfelt decision that has to be made.
Successful film director, Hannah Richards, could never have imagined that in an blink of an eye the love of her life would be gone forever. Nor would she have ever envisaged that her late partner's best friend—the acclaimed actress Alisa Forbes, would be the one to help her pick up the pieces.
Book Reviews
This story is definitely one of Jade's best. Somehow though, I get the feeling I'm going to be saying that about each new book of Jade's I read.

Terry Baker, Affinity Ebook Press
Book Details
Published by: Wicked Winters Books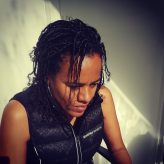 About the author
Jade Winters is a full-time author. She has published several novels in the lesbian fiction genre as well as a number of short stories.