All That Matters
Can a friendship blossom into love?
News reporter Danique has a good career and a stable relationship. That's until her boyfriend dumps her, and she's forced out of her job and her home.
When she starts a new job at The Gazette, Danique experiences an instant connection to her colleague Jenna. As they work closer together investigating a tragedy in the local community, Danique finds herself even more drawn to Jenna and begins to question her sexuality.
Can Danique overcome her fears of starting a new relationship? Or will she hide her true feelings at the expense of her happiness?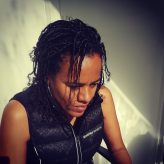 About the author
Jade Winters is a full-time author. She has published several novels in the lesbian fiction genre as well as a number of short stories.