A Walk Into Darkness
Twenty-five years after a young girl goes missing from her home in South-East England, most have given up hope of ever finding closure. But when a renowned psychic has visions of a murder the police reopen the case, placing the puzzle of the 'woodlands killer' in Ashley McCoy's capable hands.
Firmly set in the harsh reality of a world where the young and beautiful are not safe from dangerous hands, A Walk Into Darkness navigates the ups and downs of Ashley's life; desperate to solve the cold case without letting the trials and intrigues of life get in the way. When the delectable Tasha comes onto the scene, both women struggle to find a balance between their responsibilities and the undeniable chemistry behind their growing friendship.
A story of murder, intrigue and the twisting path of life and love.
Book Reviews
This well written mystery, murder, intrigue, romance had me totally hooked from the very first page through to the last page.

Terry Baker, Affinity Ebook Press
This is a beautifully written novel that will capture your imagination from the start.

Elizabeth Wright, Bestchicklit.com
Book Details
Release date: 11th March 2014
Published by: Wicked Winters Books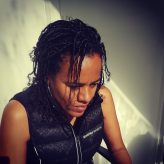 About the author
Jade Winters is a full-time author. She has published several novels in the lesbian fiction genre as well as a number of short stories.