Accidentally Together
'The past is not a package one can lay away' Emily Dickinson
When Emma witnesses a burglary in the apartment opposite, she has every intention of doing the right thing: report it and move on. However, things don't go quite as planned…
Emma is stunned to discover the apartment belongs to Lauren, her first crush who mysteriously disappeared years ago.
The return of her old amour reawakens a latent desire, a hidden longing to understand what had driven her away. Can Emma reignite the passions of her past, or will the sinister reason Lauren left all those years ago return to destroy them once again? After all, the past is never dead and buried, just lying in wait…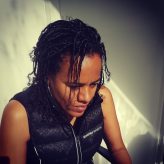 About the author
Jade Winters is a full-time author, she has published several novels in the lesbian fiction genre as well as a number of short stories.